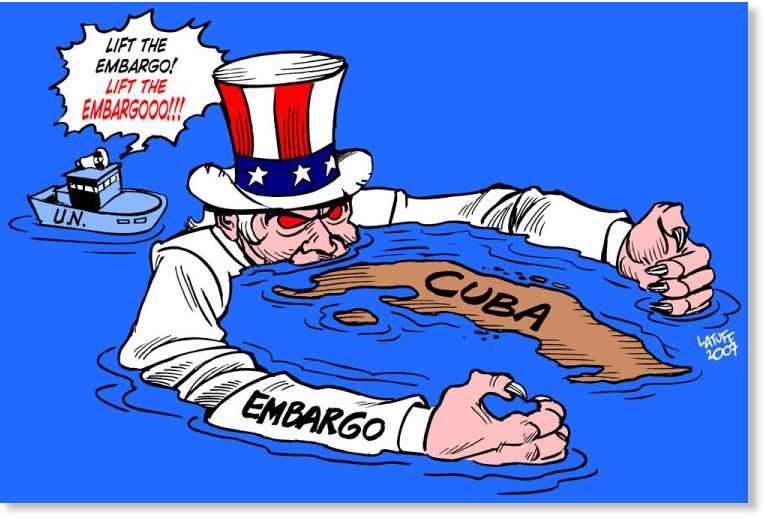 Havana, May 8.- Exclusion of Cuba from the list of country sponsoring Terrorism does not mean a relief of economic, commercial and financial blockade imposed by United States, asserted today in Gramma newspaper.
The publication noted that the island was included in that list in 1982, and the laws and regulations that established the policy of blockade were issued, mostly before that date.
He added that US officials themselves clarified that from the publication of the decision of President Barack Obama most of the restrictions associated with the inclusion of Cuba on the terrorist list will continue, as they are contained in the complex network of sanctions that make the blockade.
Among them the Trade Law with the enemy (1917), the Foreign Assistance Act (1961) and the Law of Export Administration (1979), these regulations underpinned, in the early years of the Revolution, the policy of economic war against Cuba.
It also mentioned the Regulations for the control of Cuban Assets (1963) and Regulations for Administración of Exports (1979), issued to implement what has been codified in these laws.
Subsequently, other laws such as the Torricelli (1992), the Helms-Burton (1996) and the Law of Trade Sanctions Reform and Export Expansion (2000), intensified the prohibitions on transactions with Cuba, with a strong extraterritorial character, added the newspaper.
The removal of Cuba from that list will constitutes an act of historical justice with the Cuban people, stressed the media, because for 33 years the US government kept this Caribbean nation on a list that it should have never been included, for being a victim country hundreds of terrorist acts.
Cuba has always condemned terrorism in all its forms and manifestations as well as any action that seeks to provide encouragement, support, financing and covering up of acts of this nature, emphasized the daily.
The removal from the terrorist list for its symbolic and positive political effect, could have an impact on the perception of Cuba as a country of risk by financial institutions and alleviate, but not eliminate, the fear of banks, especially foreigners to maintain relations with our country, it assured. (Prensa Latina)
Radio Cadena Agramonte, May 8, 2015