Matanzas, Cuba, May 22.- Cuba's environmental policy promotes sustainable development of the Sabana Camaguey Ecosystem (ESC), through a 20-year experience of Integrated Coastal Management.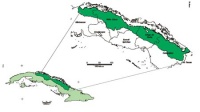 A national project co-funded by the Global Environment Fund (GEF), and the UN Development Program (UNDP) as a Deployment Agent is being developed In Sabana Camagüey.
Given its natural, archaeological, cultural and scientific values, the ESC (Cuba's northern coast) was designated a prioritized area for biodiversity conservation by the Ministry of Science, Technology and Environment (Citma).
ESC Cays covers 465 km from Punta de Hicacos Peninsula, in Matanzas province (west), to the Bay of Nuevitas in Camaguey (east), including areas of Villa Clara, Sancti Spiritus and Ciego de Avila (center).
Angel Alfonso, project coordinator in Matanzas, said during a meeting with the press that the initiative has helped to devise actions for achieving adaptation and harm reduction for climatic change.
Alfonso added that ESC Cays is the largest system of cays of the Great Caribbean and its coral reefs, its flora and fauna, the rich mosaic of terrestrial and marine habitats, and high levels of native species, allow to describe the area as a major exponent of the Caribbean.(Prensa Latina)