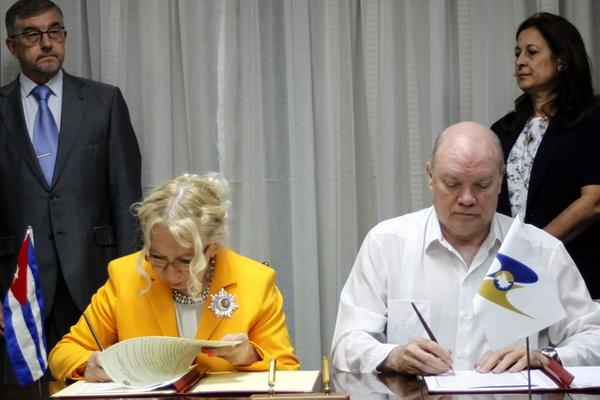 June 1 (Radio Rebelde) Cuban Economy and Planning Minister Ricardo Cabrisas met on Thursday in Havana with the Council Member (Minister) for Macroeconomic Comprehensive Commission of the Eurasian Economy Commission, Tatiana Valovaya who is on a working visit to the Caribbean island.
During the meeting, Cabrisas highlighted the good state of the political relations that exists between both member nations of the organization (Russia, Belarus, Kazakhstan, Armenia and Kirgizstan). He also highlighted the country's interest in advancing in the development of the ties with the Eurasian Economic Union and reinforcing the economic ties of each one of the member nations of the entity as part of the strategy of diversifying trading partners and markets.
Foreign Trade and Investment Minister, Rodrigo Malmierca Diaz and the representative of the Eurasian Trade and Foreign Investment, Tatiana Valovaya signed a memorandum of understanding whose objective is to increase the volume of commercial exchange and investments, the application of measures aimed at eliminating barriers that obstruct the development of trade, investment and closer cooperation of mutual interest between Cuba and its member states.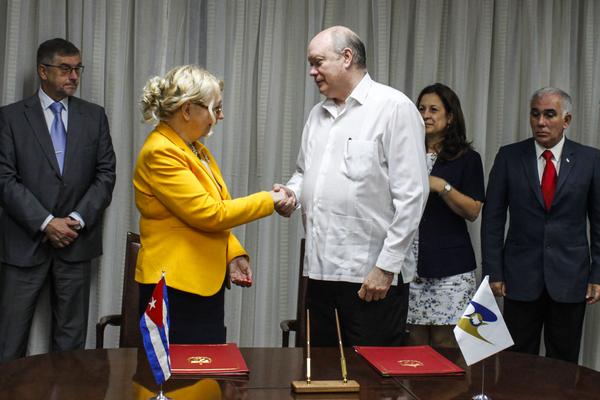 Later, a Business Forum began on Thursday at the Hotel Nacional with the participation of directives of Cuban businesses and entities. Mrs. Valovaya offered a Seminar on the Eurasian Economic Union, founded in 2015, and whose Presidency was assumed by the Russian Federation in January of this year in the person of President Vladimir Putin which held the first meeting of the Eurasian Supreme Economic Council. In this context, the members granted Moldavia the status of Observer State.
The Cuban Economy and Planning Ministser and Tatiana Valovaya ratified their commitment in working together in the new stage of cooperation that begins with the signing of the Memorandum of Understanding. This allows the insertion of the entity's member states in the plans of economic and social development in Cuba and Cuba's support in compliance with the goals of the community of the Eurasian entity.
The Russian ambassador to Cuba, Mikhail Kamynin; The Commercial Representative in Cuba Aleksandr Bogotyr and the Director of the Department of Development of the Eurasian Economic Commission, Sergei Stepanovich Chunjo accompanied the distinguished visitor.
The Cuban delegation included the Director and Sub Director of the Commercial Policy with Europe of the Foreign Ministry, Inalvis Bonachea Gonzalez and Nelida Guerra Moreira, respectively.
(ACN)