The Cuban President rejected the U.S. media accusations about the Cuban doctors' activities in Venezuela.
March 19 (TeleSUR) Cuba's President Miguel Diaz-Canel, rejected Tuesday the U.S. media accusations regarding the political activities supposedly carried out by Cuban doctors, who have been working in the Venezuelan Barrio Adentro Mission since 2003.
RELATED:
Cuban-Venezuelan Program Returns Eyesight to 700,000 Bolivians
According to an article published by the New York Times on March 17, Cuban doctors allegedly pressured their patients to vote in favor of Nicolas Maduro in exchange for medical attention, professional misconduct which allegedly was performed just a few days before the 2018 presidential elections.
"Cuban doctors can never be defamed. Their extraordinary human work carried out those lands which the Empire calls 'the world's dark corners' belies the NYT and its reporter Casey," President Diaz-Canel said on Twitter and pointed out that "feeding Marco Rubio's hatred war against Cuba and Venezuela is a crime. We are Cuba."
Concerning the U.S. media accusations, the Cuban Public Health Minister Jose Angel Portal recalled what Fidel Castro, Cuban former president and revolutionary leader, said about the Cuban doctors' work:
"The [Cuban] medical personnel, who departs to save lives anywhere, even at the risk of losing theirs, is the greatest example of solidarity that humankind can offer."View image on Twitter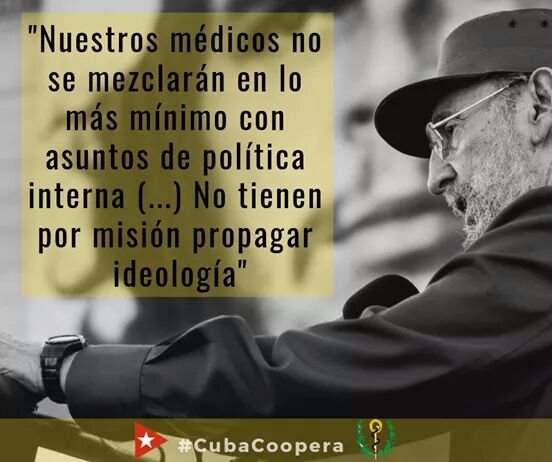 Bmcubana en Gambia@caridad_lora
Está es la #Verdad, los #Medicoscubanos no propagamos ideología, nuestro #ejemplo la hace por nosotros.111:55 AM – Mar 19, 2019See Bmcubana en Gambia's other TweetsTwitter Ads info and privacy
"The truth is this: we, the Cuban doctors, do not propagate ideology. Our example does it for us." The photo caption says: "Our doctors will not get involved in internal politics at all… They do not have as mission to propagate ideology."
The Barrio Adentro Mission is a social program which began to be promoted by Venezuela's former President Hugo Chavez in 1999. Its main purpose is to offer health services to the Venezuelan population living in areas which do not have permanent medical facilities or are far away from hospitals.
Since its inception, this program has sought the Cuban doctors' cooperation so as to provide quality care through ambulatory clinics, comprehensive diagnostic centers, and specialized child health care.
Currently, Cuba also has other international cooperation programs in health. One of them, Operation Miracle, is an ophthalmology-focused initiative which provides free optometry consultations, exams, surgeries and medications to low-income people in the Caribbean, Central, and South American countries.