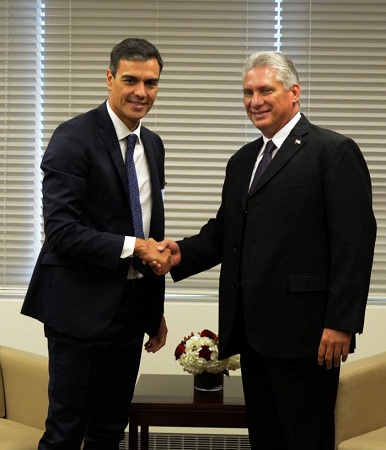 United Nations, Sep 25. – Cuba's President Miguel Díaz-Canel met on Tuesday with the President of the Government of Spain, Pedro Sánchez, as part of his agenda of bilateral meetings within the framework of the UN General Assembly.
On the eve, the Cuban leader met with some of his counterparts, from Ecuador, Lenin Moreno; Iran, Hasan Rohani; Croatia, Kolinda Grabar-Kitarovia; Mozambique, Filipe Nyussi; Peru, Martin Vizcarra; and Andorra, Antoni Marti.
In addition, Díaz-Canel had his first speech before the UN General Assembly at the Nelson Mandela Peace Summit, in which he stated that international peace remains threatened by the philosophy of domination.
He also met with Republican and Democratic members of the United States Congress, to whom he ratified the will to promote the progress of bilateral relations.
In that meeting, held at the permanent mission of Cuba to the UN, the President referred to the willingness to take advantage of the potential of cooperation on the basis of equality and mutual respect.
Just a few days before the meeting of the Cuban President with Pedro Sánchez, the Foreign Affairs Minister of Spain, Josep Borrell, noted that this would be a good time for the Spanish President to visit Cuba. (Taken from Prensa Latina)(Photos: Estudios Revolución)