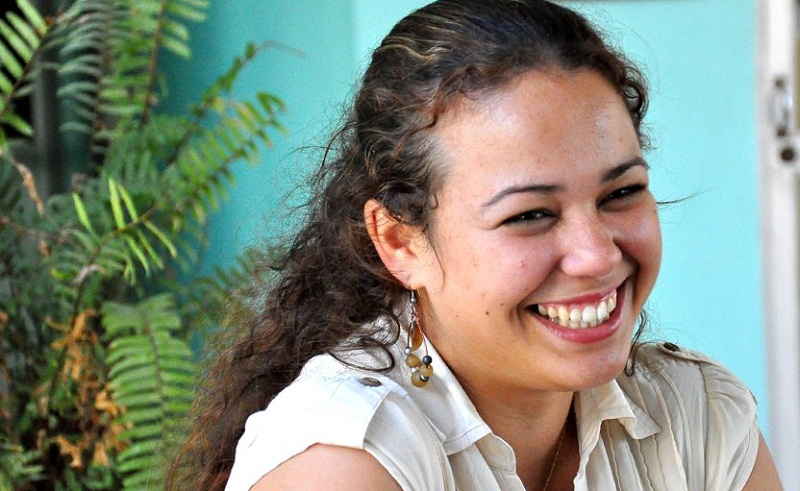 April 18 (Radio Rebelde) Ania Yelina Fernandez Lara, the youngest Granma deputy to the National Assembly of People's Power (ANPP), said in this city that the new generations of Cubans will never let the Revolution down.
Before leaving for the country's capital, where the inaugural session of the 9th Legislature of the ANPP will take place today, she told the Cuban News Agency that young people will always be faithful to the ideas and example of Fidel Castro and other greats of national history.
This charismatic girl, 23 years old and president of the University Student Federation (FEU) at the University of Granma, stressed that young people are committed to always preparing themselves to the fullest, to being tireless and to promoting many successes with fidelity to the essence of the nation.
She added that being a deputy is a source of great pride, but also a great responsibility, with which she will always try to be consistent with.
I am aware of the importance of representing the members of the FEU and the other young people, the people of Granma and the whole country well," he added, who defines himself as very humble and sentimental.
She stressed that a deputy or delegate must think above all of others, of neighbors, of co-workers, of the neighborhood and of society, of contributing to the well-being of the people, in order to promote collective success.
She said that Cuba will have a new president, but its greatest strength will always lie in unity, resistance, courage and intelligence to overcome obstacles and achieve victories, so it is essential to continue to conquer triumphs among all, with full knowledge of history.
Fernandez Lara, deputy from the Sierra Maestra mountain range, highlighted the democracy of the electoral system in the nation, with proposals from the neighborhoods and the mass and student organizations.
The average age of the new ANPP will be 49, with and 80 deputies between 18 and 35 years of age.
Of the 605 deputies, 53.22 are women, a figure that demonstrates the full rights of women in the country.