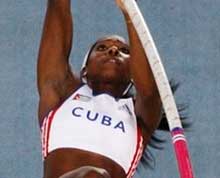 Havana, Cuba, May 11.- Cuban Yarisley Silva won the gold medal in the women's pole vault in the Games of the British city of Manchester with record of 4.30 meters.
According to press dispatches, the London 2012 Olympic runner up surpassed by 10 centimetres to her nearest rival the American Melissa Gernel.
Silva, world indoor monarch in the tournament of Sopot 2014, participates in the contest as part of her preparation for the Pan American Games this July in Toronto, Canada, and the World Championship of August in Beijing, China.
In other results on Saturday, the South African LJ van Zul won the men´s 200 meter hurdles with time of 22.10 seconds, ahead of American Ray Stewart (22.85) and Dominican Felix Sanchez (2305).
Meanwhile, Britain's Greg Rutherford and Dutch Dafne Schippers dominated the men´s and women´s long jump with 8.01 and 6.04 meters, respectively, while the winner of the women´s 150 meters was the also local Dina Asher-Smith (16.82 seconds).
The crowns of the men´s and women´s 100 meters went to the Americans Michael Rodgers (10.25 seconds) and Jessica Young (11.33 seconds).(acn)
Radio Cadena Agramonte, May 11, 2015