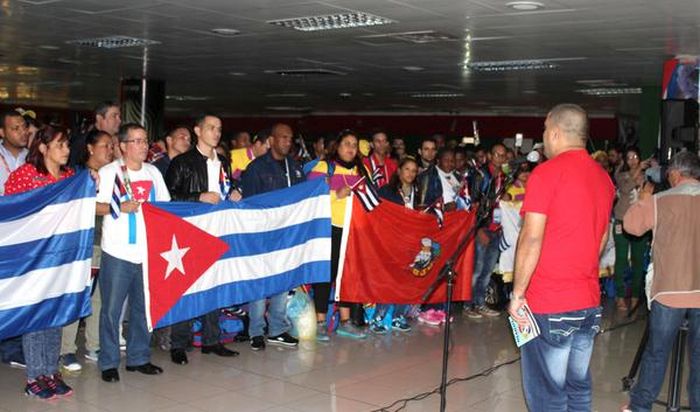 Oct 24 – The Cuban delegation of more than 250 delegates to the 19th World Festival of Youth and Students, arrived from Sochi to Havana's José Martí International Airport, October 23.
Second Secretary of the Young Communist League (UJC), Ronald Hidalgo Rivera, on welcoming the group, stressed the historic coincidence of the arrival of the delegation on the same date on which Fidel, 55 years ago, made public the measures that ensured the island's security in the midst of the Cuban Missile Crisis.
Leidys Cruz Herrera, delegate from Havana, emphasized how proud she felt to have been a part of this delegation. "It was a great responsibility and an immense pleasure, as seeing how the young people of the world admire the Cuban Revolution, the fact of saying 'I'm Cuban' represented for them something immensely beautiful, and for us that was comforting because we saw how our Revolution has influenced young people from other latitudes," she added.
The more than 20,000 delegates and guests from some 180 countries returned to their nations with the clear idea of strengthening unity to achieve victory and to continue the struggles for solidarity, peace and social justice, against imperialism and war.
Meanwhile, Rafael Vázquez, delegate for the province of Holguín, said that it was an enormous commitment to represent the Cuban youth, in particular from his position as a jurist. Attending a festival of this nature, where the rights of other peoples were being discussed, and seeing the image of Fidel Castro and Che held high, was a unique opportunity, he added.
Speaking to the press shortly before returning to Cuba, UJC First Secretary Suselys Morfa assured that the festival also served to confirm that Cuba continues to be an example for the world for its resistance and resolve in the struggle for sovereignty and independence.