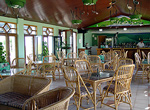 Cuba's tourism sector, supported by the diversity of offers, is the focus of attention of foreign investors, interested in taking advantage of the opportunities for investment in that sector.
The facilities granted by the Law on Foreign Investment, which was approved recently, pave the way to a greater presence of foreign hotel chains in Cuba's tourism industry.
The diversification of tourist offers also includes the development of new options such as golf, which demand large foreign capitals.
The first such projects involves the British group Esencia Hotels and Resorts, which will invest nearly 350 million dollars in the club La Carbonera in western Matanzas province.
The complex will have an 18-hole golf course, a luxury hotel, a villa with about 650 apartments and residencies, a commercial center and a club.
In addition, a second joint venture in the real estate sector linked to golf courses involves the Cuban group Palmares and the Chinese firm Beijing Enterprises Holdings Limited.
At the same time, technical works are under way in two similar projects with participation of Spanish companies in association with Palmares.
One of them will be built in the zone of el Salado, west of Havana, and the other one in Punta Colorada, in Pinar del Río, Cuba's westernmost province.
As a new element, Cuba is granting the right on land for 99 years or perpetuity, and the initial force of the joint venture to be set up will be determined in accordance with the period of recuperation of the investment, the magnitude of the resources used and the characteristics of the project.
The Spanish firm Meliá Hotels Internacional has been present in Cuba for more than two decades and runs 26 hotels.
The hotel chain administers Cuban hotels grouped in four main brands, including Paradisus, Meliá, and Sol Hoteles.
For its part, the Swiss group Kempinski, the oldest in Europe, will administer a hotel that belongs to the Cuban group Gaviota S.A. in Havana and that will be inaugurated in 2016.
Moreover, a joint venture with the Spanish group Barceló will build two five-star hotels, totaling 1,000 rooms in Santa Lucía beach.
vacacionar, September 15, 2014