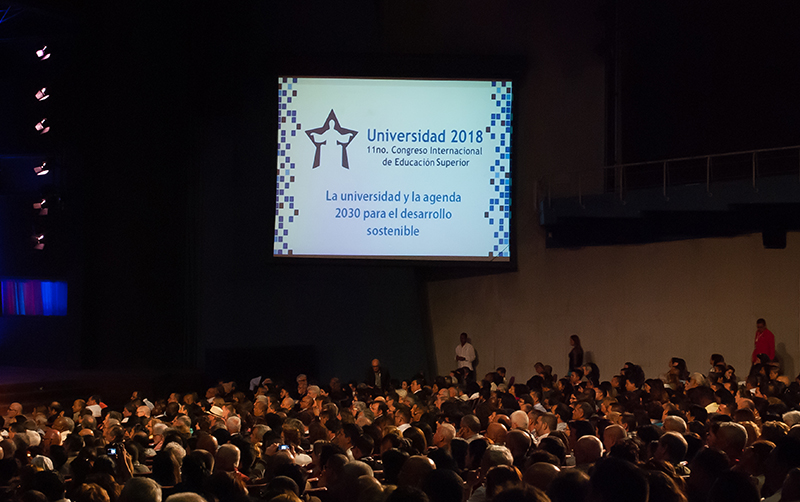 by Raimundo Urrechaga
HAVANA, Feb. 15 (Xinhua) — A gathering of educational experts in Cuba is spotlighting the importance of education to attaining the United Nations-designated Sustainable Development Goals for 2030.
The 11th International Congress of Higher Education (University 2018), which runs through Friday, has centered its debates on the role universities can play in promoting quality education towards achieving the objectives of the 2030 Agenda, including greater equality.
Cuba, with its universal education and high literacy rate, hopes its experience can help other countries meet their target goals.
"We think that universities play a major role in supporting the sustainable development goals, and it's equally important that they strongly support the economic and social development of their nations," David Atchoarena, of the United Nations Educational, Scientific and Cultural Organization (UNESCO), told Xinhua.
According to Atchoarena, director of UNESCO's Division for Policies and Lifelong Learning Systems, the biannual congress provides a venue for reviewing current global and regional trends in higher education, and devising new inclusive policies, a central push of the 2030 Agenda.
"Inequality is one of the key issues in terms of development in the region, and we think that this is certainly an area in which higher education institutions have a role to play in contributing to actually promoting equal access to higher education in all sectors of society," said Atchoarena.
Cuba has "interesting experiences," not only in terms of massive inclusion and access to higher education, but also in gender equality, something that is severely lacking in many Latin American and Caribbean countries, he said.
Aurora Fernandez, Cuba's deputy minister of higher education, said "another challenge is for universities to increasingly produce goods and services that can be used towards our country's economic development."
University 2018 is also emerging as a venue to promote new curriculums, teaching methods and policies that encourage greater integration of universities with societies, productive sectors and their communities.
Generating greater social responsibility by correctly training human resources, raising the level of scientific research and taking advantage of new technologies are critical elements to further increasing the role of universities in our societies, added Fernandez.
Cuba has hosted the congress since 1998 to promote dialogue and debate of the most pressing issues in higher education both in Latin America and other regions.
This year the event has drawn more than 2,000 international delegates from 60 countries, and 900 from Cuba, plus 11 ministers and 39 representatives of international organizations.
"It is a unique opportunity to exchange with colleagues from all continents that come to present their different points of view," said the Cuban deputy minister.
Since 1959, almost 1.5 million Cuban professionals have graduated from 50 universities and 126 municipal colleges, making Cuba the country in Latin America and the Caribbean with the highest number of college graduates, and the highest college enrollment rate.
In addition, 60,000 foreigners from 129 countries have graduated from different Cuban universities, including 34,000 doctors.