In addition, this Sunday another brigade left for Togo, on the African continent.
 by OnCuba News Staff — April 13, 2020 in Cuba
Cuba sent this Sunday a second brigade of health personnel to Italy to fight the coronavirus. This brigade comprises 38 doctors and nurses who will work in the Piedmont region, strongly affected by the pandemic.
The group of 20 doctors and 18 nurses from the Henry Reeve brigade, which during the last decade and a half has assisted in various disasters and international health crises, was bid farewell with a ceremony near the José Martí airport in Havana.
"We have the full conviction that we are going to heal a lot of people and that we are going to return with our duty accomplished," Dr. Julio Guerra, head of the mission, told EFE news agency after the event.
It has four doctors with experience in intensive care, two epidemiologists, a pulmonologist and several specialists in comprehensive general medicine, who will attend to patients at different stages of the disease.
Almost all the members of the group have experience in international missions, and 13 of them have already taken part in the efforts to combat Ebola in African countries, which "says a lot about the commitment and experience" of the professionals, according to Guerra.Cancillería de Cuba✔@CubaMINREX
Arribará a Italia segunda brigada médica cubana para apoyar en la contención de la Covid-19.

Más información vía

http://minrex.gob.cu/es/arribara-italia-segunda-brigada-medica-cubana-para-apoyar-en-la-contencion-de-la-covid19 …#CubaSalvaVidas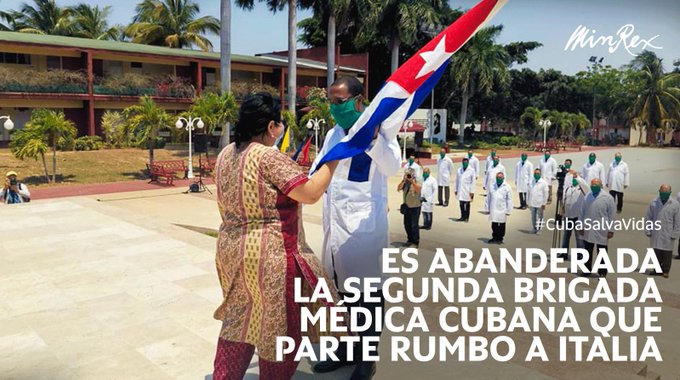 283Twitter Ads info and privacy203 people are talking about this