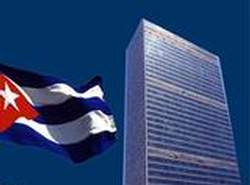 Geneva, Apr 2.- Cuba reiterated its strong and categorical condemnation of all forms of terrorism wherever they take place and whoever practices them, delegate Pablo Berti said.
We condemn all actions aimed at encouraging, supporting, financing or covering any terrorist act, method or practice, he said in a special session of the Human Rights Council on attacks, abuse and violations of human rights committed by the the extremist Islamic group Boko Haram.
In that context, Berti said that Cuba continues paying attention to the scene created for the countries affected by that situation and firmly disapproves the loss of the lives of innocent people and other damage of different naturtes caused by such acts.
No doubt it is a complex situation. There are several African countries that have been affected and we are expressing our solidarity with them, he said.
Berti remarked that the role of the international community is to support all efforts by the affected nations that contribute to safeguard peace and stability ion the region, according to what those territories request and in line with their priorities and national policies.(Prensa Latina)
Radio Cadena Agramonte, April 2, 2015