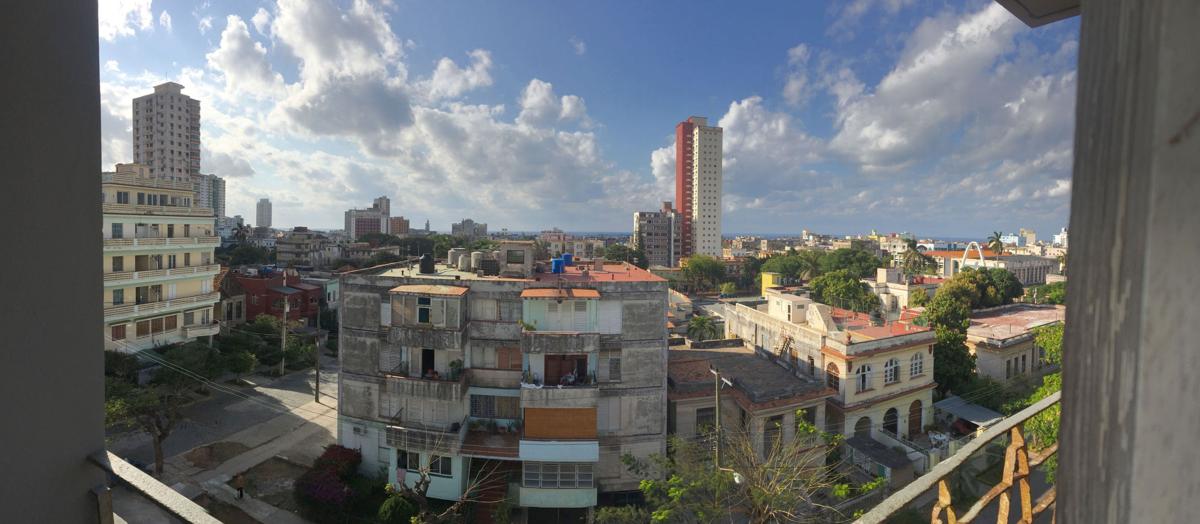 Last March, I landed with 13 other University of Pennsylvania photography students in Havana, Cuba.
After spending half a semester in the classroom meeting contemporary Cuban artists and activists, presenting research papers and preparing project goals, we arrived both anxious and thrilled.
We had packed for all foreseeable emergencies: Imodium, ibuprofen, antacids, laxatives, water filters and more. We checked three times for packed toothbrushes and contact lens solution. Why? Pharmacies are scarce in Cuba. We had also stuffed $600 in cash between multiple luggage pockets, because American bank cards don't work in Cuba.
We each arrived with different objectives: one student was in search marabou, an invasive plant; another wanted to find El Paquete Semanal, a weekly package of pirated media from the U.S. I went to find the greener side of Havana, for a photo documentary on urban agriculture and landscape architecture. My interest stemmed from growing up in Nebraska, as well as studying the history of Cuban agriculture.
I gave myself four rules:
1. Accept that you are a tourist.
2. Realize that respect is key.
3. Go where the city wants you.
4. Don't leave without a tattoo.
The two-week trip was split into three parts: five nights at Hotel Copacabana in Miramar (west Havana), one night in the agricultural mountain town of Viñales, and seven nights in casa particulares (spare rooms in private homes), in Havana's Vedado neighborhood, a hub of contemporary Cuban culture.
We arrived at the Copacabana after dark. Two-dollar mojitos and $1 domestic beers from the hotel bar wooed us as a storm off the coast pummeled the hotel patio. Our faces were damp from the mist of thunderous waves as we stared at the moon and shared our disbelief at the warm tropical March breeze.
Our first tours began at 9 a.m. In conjunction with our education visas, we were required to attend seven days of guided tours with Cuban Education Travel. The tours included the plazas of Old Havana; my favorite was the Plaza De Armas, built in the 1520s. It boasts a wooden street, built because officers couldn't sleep with the clip-clop of horse hooves on the street stone at night. The Plaza is the most green of Old Havana, with a large park in the center filled with Banyan trees and Royal palms. Market places with books, antiques and souvenirs beckoned.
Throughout the week we visited Callejón de Hamel in Centro Habana, a street completely adorned with murals by prolific artist Salvador González. Once a street that functioned as a space for Afro-Cuban religions in Havana, it is now a hotbed of tourists, including ourselves.
Outside these mandatory tours, my partner in research, Gerardo, and I scoured the city for signs of urban agriculture. Prior to 1990, much of Cuba's post-colonial agriculture focused on sugarcane exportation, therefore very little food was grown on the island. The island nation relied on its lucrative trade of sugarcane with the USSR for imported food. Following the Soviet Union's collapse, Cuba fell into a "special period" in which food security was nil. Cubans quickly began to rehabilitate their soil and work together to grow a myriad of organic crops throughout the country. Havana experienced a boom in urban farms, called organopónicos, now occupying 8 percent of the land in the city.
During our search for flora, we encountered taxi drivers in Viñales who taught us the difference between dormidera, a "sensitive" plant that closes its leaves when you touch it, and "marabou," an invasive plant. In Viñales, we visited a farm-to-table restaurant where we literally ate at the farm – by far the best food of our trip.
There were some less-than-ideal experiences. In Havana, I fell hip-deep into a swampy ditch only to have the housekeeper at the casa where we were styling spank me for getting mud on the floor. I grew tired of paying to use the bathroom everywhere, being turned away from urban farms because they were state-owned, and sick of cheap mojitos and pizzas. (Yes, I ate pizza six times in Havana!)
But, I learned how to do my laundry by hand from a Cuban woman via hand gestures alone and danced until I sweat my makeup off in a gay club in Vedado.
After two weeks and one tattoo later, I was sleep deprived, sweaty and ready to go home as I sipped my last Bucanero beer in the Havana International Airport.
See more of laura's experience – including a photo exhibition, "2017 Havana Studio," on Instagram, @upennhavana
Laura C Carlson, Inspired Living Omaha
June 25, 2017