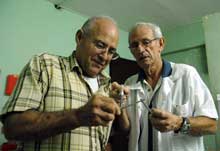 Havana, May 4.- The National Orthopedic Technology Center CUBA-RDA (CNOT) has provided almost 14 million orthopedic services and articles since its creation 50 years ago.
The health care institution was created after the donation of a lab and equipment, teaching materials and the training of Cuban experts by professors of the former German Democratic Republic, after negotiations between solidarity groups.
In 1959, there were only a free private centers in Havana and central and Eastern parts of the country, that would assist patients very empirically and without scientific basis. People also had to acquire orthopedic articles at a high price, said CNOT Director Guillermo Rodríguez.
Professors, students and workers inaugurated the Orthopedics Technology School/Workshop CUBA-RDA on May 2, 1965, a date celebrated as National Orthopedics Technology Day.
Nowadays, the center guarantees the 100 percent of the national demand for prosthesis and over the 80 percent of the rest of the devices, said Rodriguez.
The Center produces prosthesis, orthopedic footwear (including for diabetics), orthotics, bandages, and other technical support like crutches, Zimmer frames and canes, in compliance with international standards, said Production Deputy Director José Álvarez.(Prensa Latina)
Radio Cadena Agramonte, May 4, 2015