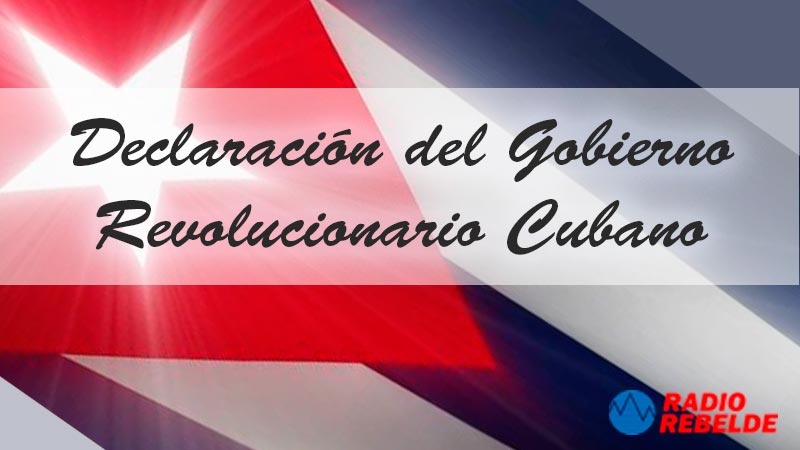 The Revolutionary Government of the Republic of Cuba strongly condemns the attempt against the President of the Bolivarian Republic of Venezuela, Nicolas Maduro Moros on Saturday August 4th during a military rally in Caracas on occasion of the 81st anniversary of the founding of the Bolivarian National Guard.
This act of terrorism, that attempts to ignore the will of the Venezuelan people, constitutes a new desperate effort to obtain, through the means of assassination, what they were not able to achieve in multiple elections, or through the 2002 coup attempt against the then President Hugo Chavez, oil coup in 2003 and the non-conventional war deployed through media campaigns, sabotages and violent and cruel acts.
Once again the Revolutionary Government denounces the operation underway against the legitimate government of Venezuela, as part of the aggressive imperialist policy of ousting the Bolivarian Revolution which includes the arbitrary and aggressive Executive Order of the United States characterizing Venezuela as an "unusual and extraordinary threat to the national security and foreign policy" of the superpower. In addition, the unilateral economic sanctions, which are a violation to international law, the declaration of the US Secretary of State on the validity of the Monroe Doctrine, his call to a military coup against the Constitutional Government of Venezuela and the US President's warning of using "possible military options".
Army General Raul Castro Ruz warned on July 14th, 2017:
"The aggression and coup violence against Venezuela hurts all of "Our America" and only benefits the interests of those that pledge in dividing us to exercise its dominance over our peoples, without caring in creating conflicts of incalculable consequences in this region, as we are seeing in different parts of the world".
"We alert today that those that attempt to oust the Bolivarian and Chavista Revolution through unconstitutional and violent means or coup attempts will assume a serious responsibility before history".
The Revolutionary Government expresses its full and unbreakable solidarity with Venezuela and absolute support to President Nicolas Maduro Moros and the civic-military union of the Bolivarian and Chavista people.
The President of the Council of States and Ministers of the Republic of Cuba, Miguel Diaz-Canel Bermudez affirmed last July 17th at the 24th Sao Paulo Forum in Havana that we must, "Reinforce the conviction that to fight for Venezuela is to struggle for the integration of the region and respect the sovereignty and independence of Our America".
Declaration of the Revolutionary Government
Havana, August 4, 2018