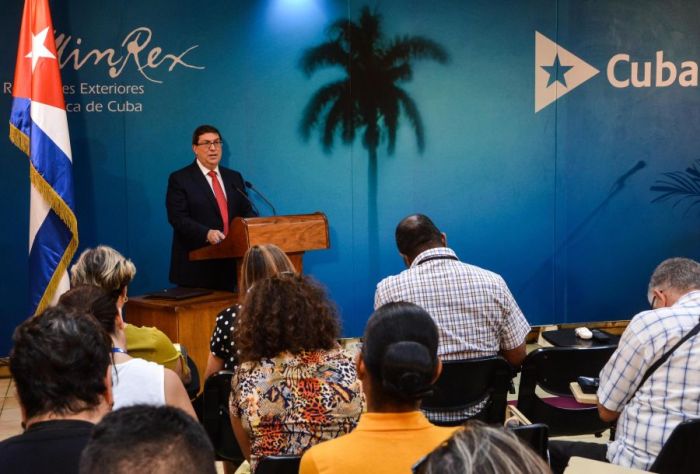 Statement by the Ministry of Foreign Affairs of the Republic of Cuba in response to recent measures taken by the Trump administration following incidents involving U.S. diplomatic personnel in Havana.
On September 29, 2017, the US Secretary of State Rex Tillerson announced the decision to significantly downscale the diplomatic staff of the US embassy in Havana and withdraw all their relatives, claiming that there had been "attacks" perpetrated against US Government officials in Cuba which have harmed their health.
Once again, on October 3, the US Government, in an unwarranted act, decided that 15 officials of the Cuban Embassy in Washington should depart from the United States, claiming that the US had reduced their diplomatic staffing levels in Havana and that the Cuban Government had failed to take all appropriate steps to prevent "attacks" against them.
As was informed by the Ministry on August 9 last, since February 17, 2017, when the US embassy and State Department notified the alleged occurrence of incidents against some officials of that diplomatic mission and their relatives as from November 2016, arguing that these had caused them injuries and other disorders, the Cuban authorities have acted with utmost seriousness, professionalism and immediacy to clarify this situation and opened an exhaustive and priority investigation following instructions from the top level of the Government. The measures adopted to protect the US diplomatic staff, their relatives and residences were reinforced; new expeditious communication channels were established between the US embassy and the Diplomatic Security Department and a committee of experts was created to make a comprehensive analysis of facts, which was made up by law enforcement officials, physicians and scientists.
In the face of the belated, fragmented and insufficient information supplied by the US, the Cuban authorities requested further information and clarifications from the US embassy in order to carry out a serious and profound investigation.