Cuba's President Miguel Diaz-Canel heads the Labor Day celebrations in a time when Cubans defy the U.S.'s new wave of threats and sanctions.
May 1 (teleSUR) Tens of thousands of people are march in Cuba to celebrate Labor Day under the leadership of President Miguel Diaz-Canel and the Communist Party First Secretary Raul Castro. "Unity, commitment and victory" is written across a huge banner in front of the Revolution Square in Havana.
RELATED: 'Enough with Threats, Ultimatums,' Cuba Tells US
On the march's front line were the Cuban doctors, an internationally lauded group of medical professionals who, since the early years of the Revolution, have been bringing humanitarian and medical assistance to other Southern nations and allies throughout the world.
Among the student, labor and social groups present at the march is, for the first time, representatives of the Lesbian, Gay, Bisexual, and Transgender (LGTB) community, which has achieved greater acceptance and visibility on the Caribbean island.
To kick off the parade, a recording of late president Fidel Castro's 2000 Labor Day speech was played in which he defined the Revolution.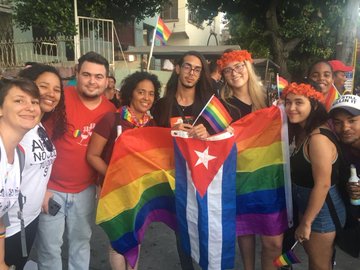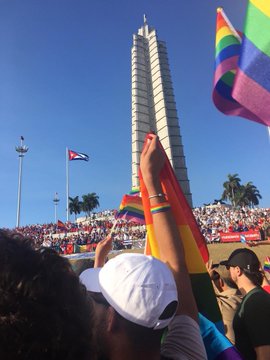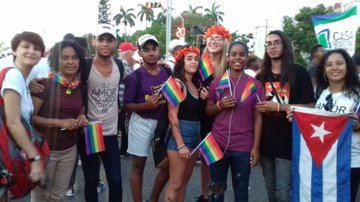 Race and Equality@raceandequality
#Cuba – #Hoy en el Día Internacional de los Trabajadores organizaciones #LGBTI se movilizan por las garantías del derecho al trabajo sin discriminación, por trabajos decentes y bien remunerados #DiaDelTrabajador56:05 AM – May 1, 2019See Race and Equality's other TweetsTwitter Ads info and privacy
"LGBTI organizations are mobilizing on Labor Day to guarantee the right to work without discrimination and for decent and well-paid jobs."
The enthusiasm of May Day took hold of the streets as the Cuban people moved to the Revolution Square in Habana.
"The dawn's silence broke with a bustle mixed with infinite joy displayed by (marchers) … in what is considered an historic parade," Prensa Latina reported.
Prominent throughout the May 1 parade are Cuban flags of all sizes and banners with revolutionary phrases, along with photographs of those who made possible Cuban independence and sovereignty.View image on Twitter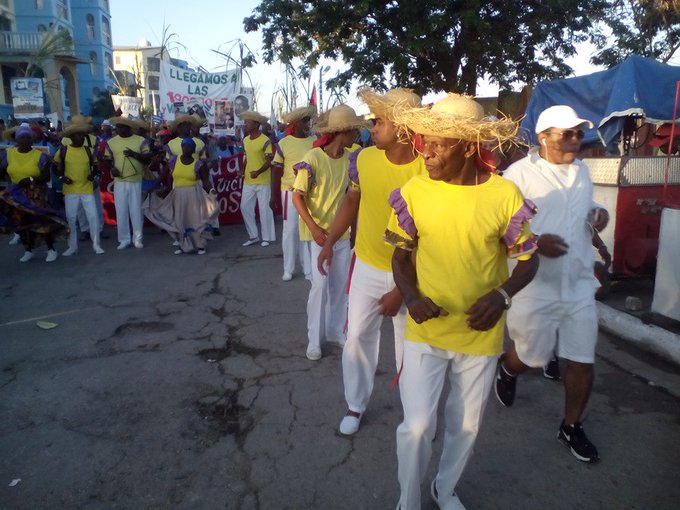 Ciego de Ávila AsambleaProvincialPoderPopular@apppciegodeavil
Representando las tradiciones culturales y el trabajo Comunitario Integrado del Consejo Popular #Baraguá en #CiegodeAvila #Cuba, la agrupación danzaria "La Cinta de Baraguá" dice presente este #1roDeMayo. #Cuba es #Cultura. Somos #PoderPopular. @AsambleaCuba @DebbieL1988537946:53 AM – May 1, 2019See Ciego de Ávila AsambleaProvincialPoderPopular's other TweetsTwitter Ads info and privacy
"Representing the Baragua Popular Council's cultural traditions and communty work in Ciego de Avila, Cuba. The Cinta de Baragua dance group says Labor Day is here, Cuba is culture. We are the people's power."
The Cubans also carried Venezuelan flags as a way of expressing their rejection of theTuesday coup attempt where self-proclaimed Venezuelan president Juan Guaido sought to take over the government, and failed.
In the Revolution Square in Cuba's capital, children and teenagers played music and expressed their commitment to the country.
Labor Day is celebrated at a time marked by heightened United States sanctions, criticized by the Cuban people at the parade.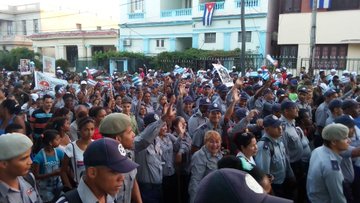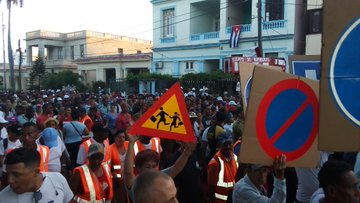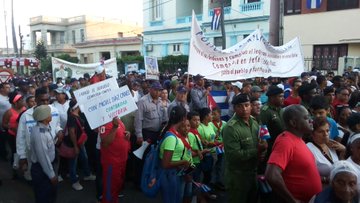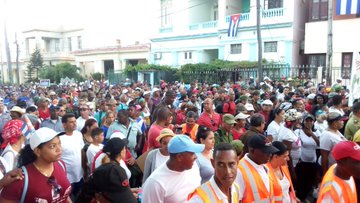 Los combatientes del MININT, como parte del pueblo, también celebran el Día Internacional de los Trabajadores. Hombres gloriosos, de trabajo duro y sacrificio diario, para generar el bien mas preciado, la tranquilidad de mi #Cuba. @PatriMedi90 @Mauro_Patria @GabiNatural145:25 AM – May 1, 2019See Marcos Rodriguez's other TweetsTwitter Ads info and privacy
"As part of the people, the Interior Ministry fighters also celebrate Labor Day. Glorious, hard working men who daily sacrifice to keep the most precious asset, the tranquility of my Cuba."
In mid-April, U.S. National Security Advisor John Bolton announced that remittances to Cuba will be capped at US$1,000 per person every three months and the state department confirmed that it is investigating how to ban U.S. citizens' travel to the island.
Starting May 2, the President Donald Trump administration will allow claims in U.S. courts against multinational companies operating on land or in infrastructure expropriated in Cuba after the 1959 Revolution, further tightening the blockade and worsening foreign relations in the region. The move also threatens European, Chinese, Mexican and Canadian companies operating on the island.
In other Cuban cities, Labor Day is being celebrated. One of the other biggest parades is taking place in Villa Clara where Argentinean-Cuban guerrilla leader Ernesto "Che" Guevara is buried.