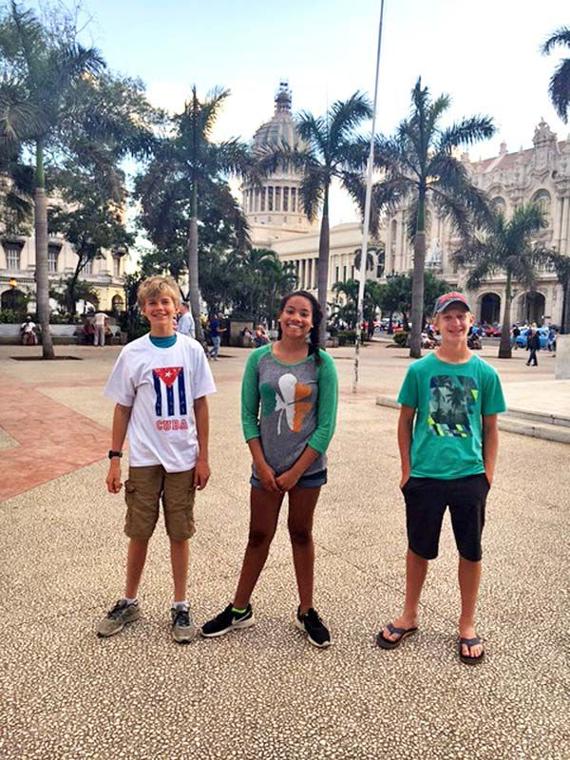 From left, Daniel Richardson, Noel Haas and Ryder Reed stand near the Cuban National Capitol building in Havana. The students toured the island for seven days in March along with their parents and Crest Academy teacher Deb Bass O'Brien.
by Sam Liebl Mail Staff Writer | April 10, 2017 Three Crest Academy students explored Havana, snorkeled in the Caribbean Sea and saw a vastly different culture during a trip to Cuba in March.
Eighth-graders Noel Haas, Daniel Richardson and Ryder Reed toured the island March 15-22 along with parents Bill and Betsy Haas, Amy Reed and Seth Richardson and Crest Academy teacher Deb Bass O'Brien, who left halfway through the trip.
Crest Academy students traditionally take a trip during their eighth-grade year at the middle school, which focuses on project-based learning.
Although the Salida school board cited safety concerns and denied the students permission to go to Cuba as an official school trip, the students and their families personally funded and took the trip without formal school district approval.
The three students presented their experiences to Crest Academy staff and students Tuesday.
All three noted how laid-back Cuban culture seemed to be, the presence of dogs and chickens in the streets, the absence of stores and how they were able to connect with Cubans despite a language barrier.