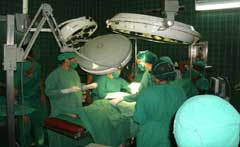 Camaguey, Mar 17.- The removal of the parathyroid glands, through a complex surgical procedure, is one of the results of the Surgery specialty at Manuel Ascunce Domenech University Hospital, in Camagüey city.
The first surgery of this kind was carried out last year in the above-mentioned heath center. Thanks to this procedure, damaged parathyroid glands, which can cause kidney disease and other health problems, are removed.
According to specialists the surgery, which takes about an hour and half, is done under general anesthesia, with neck incisions, just below the Adam's apple, where four parathyroid glands are located.
This procedure requires a rigorous protocol, because surgeon works in the vicinity of vital structures, such as jugular veins, artery carotid, windpipe, esophagus, thyroid gland and vocal cords. (Alex López Almaguer/ Radio Cadena Agramonte).