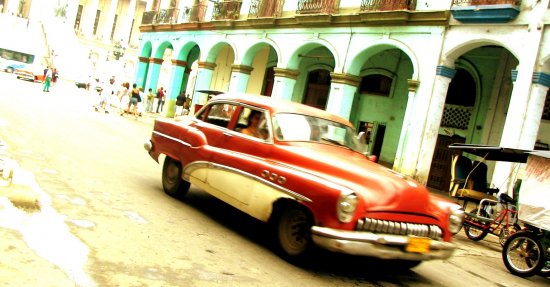 Opening up travel to Cuba from the United States will have a major impact on commerce in the Caribbean. Recently, American Airlines (AAL) and JetBlue (JBLU) received approval from the Cuban government to begin commercial airline service to airports on the island. From a business perspective, anyone can see that this is potentially just the start of what is to come. Opening up new ports of business is good for competition and allows for businesses big and small to tap a new well that was unavailable until now.
One business that could benefit from this recent development is The Herzfeld Caribbean Basin Fund, Inc. (CUBA) because it invests in issuers that are likely, in the Advisor's view, to benefit from economic, political, structural and technological developments in the countries in the Caribbean Basin, which the Fund considers to consist of Cuba, Jamaica, Trinidad and Tobago, the Bahamas, the Dominican Republic, Barbados, Aruba, Haiti, the Netherlands Antilles, the Commonwealth of Puerto Rico, Mexico, Honduras, Guatemala, Belize, Costa Rica, Panama, Colombia, Venezuela and the United States.
Opening up the airways to Cuba brings to mind several historical events like the Oklahoma Land Rush or California Gold Rush whereby settlers embarked on seemingly unthinkable journeys with hopes and dreams of a fresh start. In several years, we will see a Starbucks (SBUX) on every corner street in Havana, a Wal-Mart (WMT) in every community, and countless McDonalds (MCD) overflowing with customers buying egg mcmuffins before heading off to work at the local Bank of America (BAC) branch.
As an investor, it is very tough to cover all your bases effectively during a significant political event such as the deregulation of Cuba. Free trade is a great thing and one of the fundamentals on which America was founded so, it seems long overdue that our relationship with Cuba has finally come on board.
We will reach out to Erik M. Herzfeld, who was named the fund's President and Chief Executive Officer back in February 2016 to see what investment strategies Herzfeld Caribbean Basin Fund has planned for the last quarter of 2016 and fiscal 2017. Currently, the share price for Herzfeld trades in the $4.72 to $8.49 per share range, and the company has a market capitalization of only $37.55 million.
DISCLOSURE: The views and opinions expressed in this article are those of the authors, and do not represent the views of equities.com. Readers should not consider statements made by the author as formal recommendations and should consult their financial advisor before making any investment decisions. To read our full disclosure, please go to: http://www.equities.com/disclaimer
Bolton Flautt, equities.com
August 23, 2016