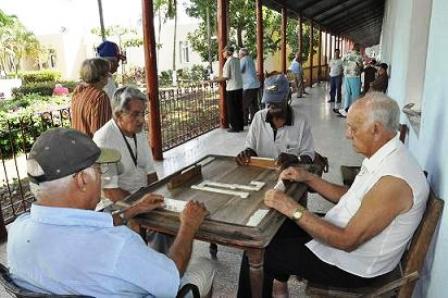 Camagüey, Dec 25.- This year, the province of Camagüey destined more than 600 thousand pesos for the continuity of the program of repair and maintenance of nursing homes and grandparents' houses (facilities where old people stay during the day and conduct activities together), with the aim of raising the comfort and quality of life in these facilities.
As a result of the program, 24 grandparents' houses of the territory were already rehabilitated, and at present the efforts go mainly towards 13 nursing homes, of which six are already finished and other five remain in execution.
These actions are also directed to fulfill the requisites of the Ministry of Public Health to the tariffs increase of these centers, for example, the availability of cold and warm water the whole day, toilet bowls of 50 centimeters in height, and the elimination of the architectural barriers.
Jesus Regueira Naranjo, director of the Elder Attention program in this province, said to the ACN that a more careful comprehensive care should be offered in the institutions, with all the necessary material and human resources like wheelchairs and enough provisioning, among others.
He explained that for the increase of the payments for these services, the economic solvency of the elderly adult and his relatives will be measure, and in a set analysis with experts of the Ministry of Labor and Social Security the monthly payments will be defined up to 400 pesos in the nursing homes and 180 in the grandparents' houses.
The specialist emphasized the fact that individual evaluations will be carried out, and in the pertinent cases the Cuban State will subsidize these services, on the premise that in Cuba nobody remains helpless.
At present, the program of attention to the old aged people in this territory is structured from the community with 31 available health areas, 840 capacities in grandparents' houses and more than a thousand in nursing homes at the institutional scale, and five rooms of geriatrics distributed in the municipalities of Camagüey, Guáimaro and Florida.(ACN)
Radio Cadena Agramonte, December 25, 2015