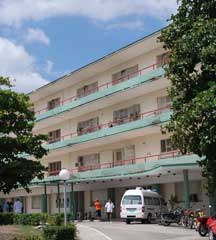 Camaguey, Jan 14. – The recognition to those who struggle for saving the lives of other human beings characterized the celebration of the 53rd anniversary of the Manuel Ascunce Domenech Surgical Hospital in Camagüey.
Staffers with a long and storied career in this healthcare facility -opened on January 14, 1962- were lauded for being part of a group characterized by sound ethical, human and Revolutionary values.
The services of nephrology, radiology, ophthalmology, cardiology, trauma, the outpatients department, the microbiology and the ICU services stand out today for their quality and the efficacy of the personnel in performing medical procedures, diagnosing and treating patients.
The Manuel Ascunce Domenech Provincial Hospital carries out a praiseworthy work in fields such cornea and of kidney transplants, besides its personnel stands out in performing endoscopic surgical procedures. A total of 200,000 patients were seen at its emergency service in 2014, nearly 17,000 patients were admitted in its ward and over 20,000 went under the knife.
When interviewed by Radio Cadena Agramonte, several patients praised the quality of the medical and paramedic personnel and highlighted the renovation to which the hospital has been subjected.
More than 2,000 people are working today at the Manuel Ascunce Domenech Provincial Hospital, and it features 500 beds, 44 services and 21 surgical positions where people of Camaguey, Ciego de Ávila and Las Tunas have access to free high-quality healthcare. (Alex López Almaguer ([email protected]) / Radio Cadena Agramonte)