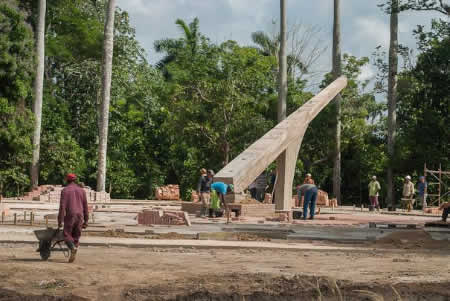 Camagüey, Jul 13.- More than 200 of plants species, restaurants of Cuban cuisine, guarapera, spaces for camping, promenades in boats and a solar clock – the third one of his kind in the country – are some of the attractions that the visitors will enjoy in the Botanical Park that is being constructed in the city of Camagüey.
The work has demanded more than two millions Cuban pesos, and it will have a research center for the creation of shrubs more resistant to pests and to the climate change, a briefing room and area of accommodation, in addition to a greenhouse, which crystal roof is already in Camagüey.
The cave, an underground bar – restaurant with a setting that does honor to his name, will be another attraction. It will have a capacity of more than 70 guests distributed in two reserved compartments and a lounge, work of the designer Dimitri Gómez, from Ciego de Avila, author of the Love Park pinpointed on the Republic Street.
The Botanical Park will have a pool for children, a nine-meter-high viewpoint, from where it will be able to watch his vast area of land.
Also, people will be able to go from the Botanical Park to the recreational facility The Dreams Lake by launches that cross the dam that separates both premises, in whose waters will be placed sculptures of aboriginal women and their lofts.
A must visit place, in a future, for those who come to Camaguey, the local will have promenades in horse carriages, on horseback and  in a train, everything to prevent the vehicles transit inside the installation as safety measures for those who walk along his extensive paved routes.(Radio Cadena Agramonte)