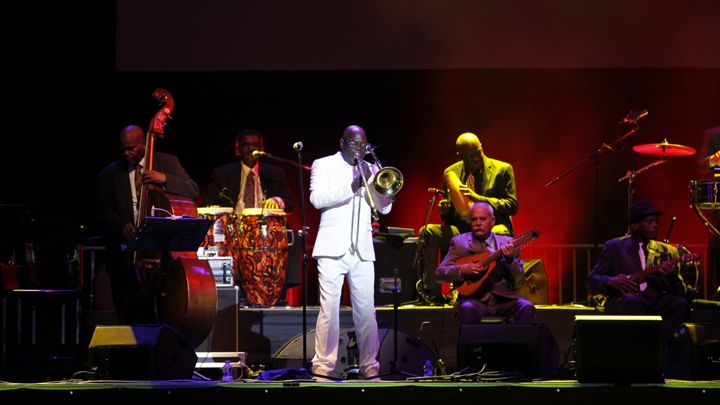 Buena Vista Social Club, the orchestra that is considered an ambassador of traditional Cuban music in the world, will say goodbye on Saturday from stages in Cuba.
With two concerts this weekend at the Karl Marx Theater in Havana, the band will completes its "Adios Tour", which took them to stages of all five continents for one and a half year.
Guitarist Eliades Ochoa, one of the founders, said that Buena Vista Social Club has become a myth and its legacy will remain over time, because the world does not want it to end.
"We should end the "Adios Tour" in Cuba, well, what better place to do it," he said.
Singer Omara Portuondo stated that she had never wanted to end her work with the band, which has allowed her to take traditional music from Cuba to all five continents.
Although most of our performances were in other countries, we decided to end the tour in Havana, because we love to sing for the Cuban audience, she said.
During the concerts at the Karl Marx Theater, on May 14 and 15, images and videos to remember musicians such as Ibrahim Ferrer, who were founders of the project but they are no longer with us, will be screened.
Writes Rolling Stone's Magazine:
"It's been 20 years since Ry Cooder, British producer Nick Gold and Cuban musical director Juan de Marcos Gonzalez assembled a group of veteran Cuban musicians, christened them Buena Vista Social Club and recorded an album that would become a global phenomenon and sell more than 12 million copies worldwide. (And earn a spot on Rolling Stone's 100 Greatest Albums of the Nineties.) Since then, the name – taken from a pre-revolution members-only club – has become as much brand as band, spawning an Oscar-nominated film, renewed interest in Cuban music and spinoff group Orquesta Buena Vista Social Club."
Gabo's ashes arrived in Cartagena, Colombia
The ashes of Colombian writer Gabriel García Márquez have arrived in Cartagena de Indias, where they will rest inside La Merced from Sunday, according to local media reports.
On the request of his family, the former religious building, built in 1619, has been dedicated to the author of 'One Hundred Years of Solitude', who died of cancer in Mexico, in 2014.
The ashes of the novelist, brought from Mexico, will remain in the hands of his relatives in Cartagena until May 22nd. The date has been chosen for the opening ceremony of the memorial erected in his honor.
"The building is ready to honor him, it will be an honor to have a permanent tribute to him on this earth," Graciela Venecia, an official of the University of Cartagena – to which the old convent now belongs – she said in an interview.
Nearly a hundred journalists from around the world, directors of national media, Culture Minister Mariana Garcés and President Juan Manuel Santos appear on the guest list for the dedication ceremony, said the website El Heraldo.
Los Van Vam come back to U.S.
The mythical Cuban orchestra The Van Van returns with its music to United States, where during next month of June and part of July they will carry out presentations in more than 10 states, said the group.
Diverse scenarios of California, Arizona, Nevada, New Mexico, Texas, Lousiana, Florida, Georgia, North California, Pennsylvania, New Jersey, New York and Washington will open the doors to the Cuban musical ensemble known as "The Musical Train of Cuba", as they announced in their official profile in the social
El Reportero's news services, El Reportero
May 23, 2016