Seventeen years ago Venezuelans took to the streets to defend President Hugo Chavez who had been kidnapped by right-wing generals.
April 13 (teleSUR) Thousands of people in Venezuela are turning out to celebrate the nation's "Militia Day" in rallies throughout Caracas Saturday. The day commemorates the nation's response to the attempted overthrow of now-deceased President Hugo Chavez, April 13, 2002.
RELATED:
Maduro Urges Bolivarian Militia to Defend Venezuela's Sovereignty
"On that date the Venezuelan people demonstrated that they, united strongly with their National Bolivarian Armed Forces (FANB), could unite to protect their freedom, sovereignty and independence," said Defense Secretary Vladimir Padrino Lopez over Twitter Saturday morning. He stressed that "in the Bolivar homeland, the birthplace of America's liberators, despotism does not fit, since there is a strong and virtuous people with a deep political awareness."
Tens of thousands of people are taking part in the Saturday march in Caracas to commemorate Chavez' release from prison after an attempted coup on the president 17 years ago, waving Venezuelan flags and holding pictures of the deceased president.Ver imagen en Twitter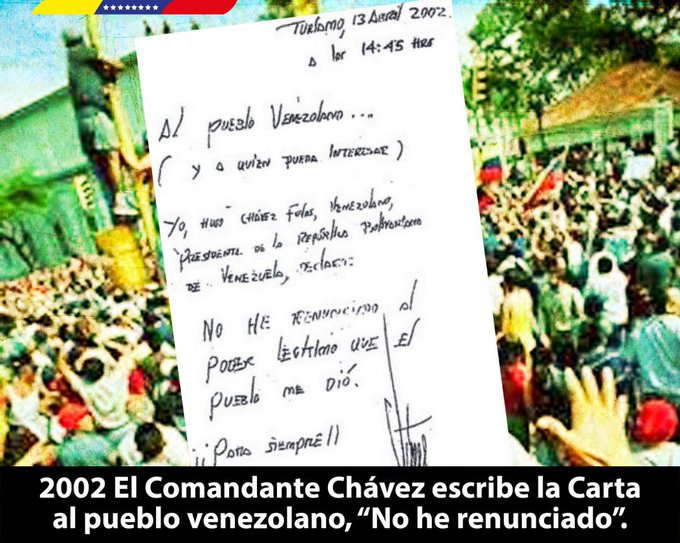 La carta escrita por el Cmdte. Chávez durante su secuestro en Turiamo, es un digno ejemplo de fuerza, coraje y valentía. En medio de las más difíciles circunstancias mantuvo una inquebrantable lealtad al pueblo y a la Patria. Como él hoy decimos: ¡Leales Siempre, Traidores Nunca!1.3106:50 – 13 abr. 20191.806 personas están hablando de estoInformación y privacidad de Twitter Ads
"Commander Chavez' letter, written while he was kidnapped at Turiamo, is a worthy example of strength, courage and courage. During the most difficult circumstances he maintained an unwavering loyalty to the people and the country. Like him, we say today: 'Always Loyal, Traitors Never!'"
On the afternoon of April 11, 2002, the Venezuelan far-right called for a coup d'état of Chavez. The business elites opposed several new norms that the head of state had recently had passed, such as the land law that facilitated land redistribution. The ​​​​​Organic Hydrocarbon Law, which allowed for state control of oil extraction and limited foreign investment in the field.
Given this, the opposition kidnapped Chavez in an act fostered by right-wing military commanders. A supposed "transitional government" was created that proclaimed to dissolve the National Assembly.
Two days later, however, the Venezuelan people took to the streets to demand the return of the Revolution's leader.
"Chavez did not resign, they have him kidnapped. Free him", the people said as they marched towards the Government headquarters, the Latin American media Aporrea recalls.​​​​​​​
A few hours later, on the night of April 13, President Chavez was rescued by troops loyal to the Bolivarian revolution. The opposition abandoned then its coup attempt.
At the parades in Caracas, Socialist Party (PSUV) leader, Jorge Luis Garcia told crowds: "It is an honor for me to be today after 17 years and commemorate one of the most beautiful historical achievements of the people." 
Created by Chavez in 2009, the Venezuelan National Militia is made up of volunteer civilians and complements the Armed Forces.
In 2018 the militia increased its membership from 400,000 to 1.6 million in order to defend the Venezuelan territory from possible external aggressions by the United States, Colombia and Brazil.​​​​​​​