Puerto Rican actor, in Cannes promoting aid worker comedy A Perfect Day, calls for talks between Washington and Havana over removal of the trade embargo to move ahead quickly
Benicio del Toro, the Oscar-winning actor who played Che Guevara in a controversial biopic of the iconic revolutionary, has called on the US and Cuba to accelerate the process of normalisation of relations between the two countries.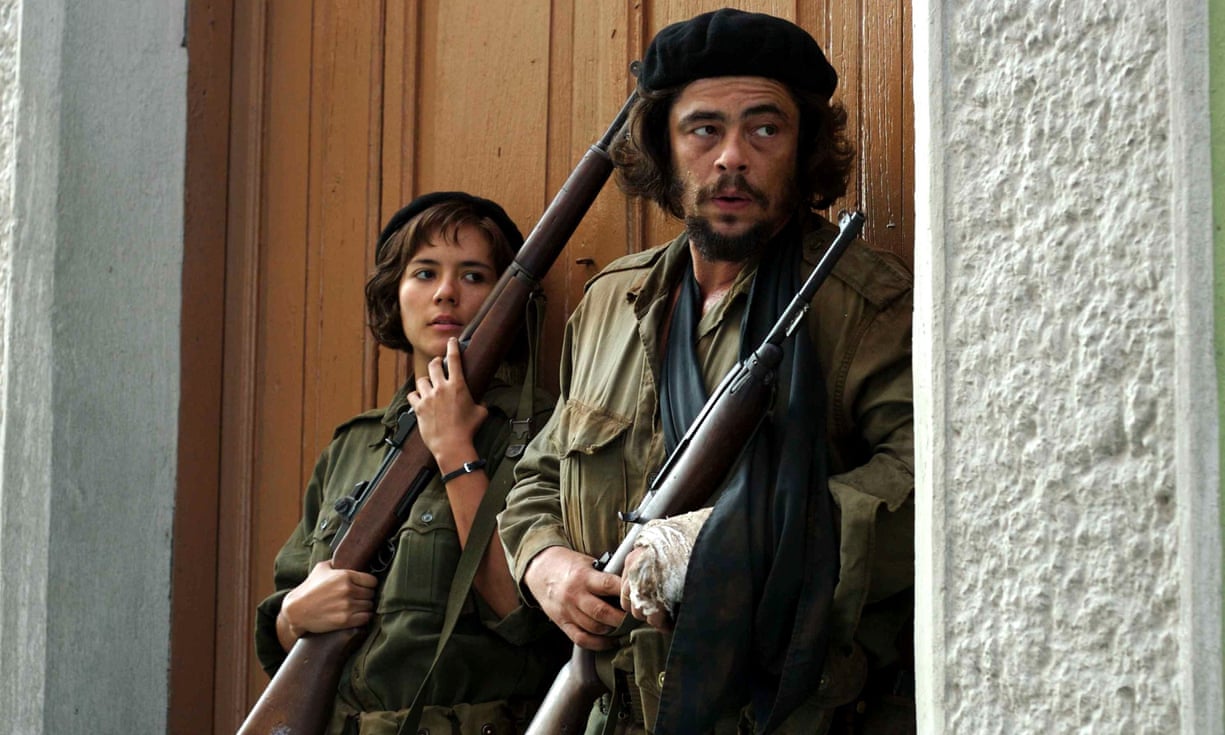 "Let rip. I think it's great," said del Toro in an interview at the Cannes film festival, when asked about the diplomatic bridge-building that began between Washington and Havana last month.
US-Cuban diplomacy, in a deadlock for decades since the 1959 overthrow of the US-backed government of the then Cuban president, Fulgencio Batista, took a historic lurch forward when the White House removed Cuba from the US list of state sponsors of terrorism in April. Barack Obama and Cuban president, Raúl Castro, recently held talks at the Summit of Americas, the first time leaders of the two nations have met face-to-face in 50 years.
Del Toro, who was born in Puerto Rico and holds Puerto Rican and Spanish nationality, said that an effort should be made to keep the negotiations moving forward at a pace.
"It's going to take time," he said. "But once it starts going it's got to move. It's going to benefit both countries and their people. I was in Cuba not long ago and people were happy about the possibilities".
Del Toro moved to America with his family from Puerto Rico when he was 12 years old. He said the process of assimilating into the new culture was "softened because I like the Rolling Stones and I played basketball. I would always have a team".
The US has blockaded Cuba with a trade embargo since 1960, a move that has been condemned annually by the UN General Assembly for 23 consecutive years. In a statement headlined "Charting a New Course on Cuba" the White House recently acknowledged its "failed approach" to relations with the country. "We cannot keep doing the same thing and expect a different result," read the statement. "It does not serve America's interests, or the Cuban people, to try to push Cuba toward collapse." Earlier this month the US began to re-establish tourist transport links with its island neighbour, re-opening the ferry service from Florida to Havana.
Del Toro was in Cannes promoting his new film, a comedy-drama about aid workers called A Perfect Day. He plays Mambrú, a jaded humanitarian working in an unidentified Balkan country to remove a bloated corpse from a village well in the aftermath of the ethnic conflict between Serbs and Muslims. Del Toro described the character, whose progress is blocked by stony-faced locals and boneheaded UN bureaucrats, as "Guevara-ist without the gun". The film also stars Tim Robbins as Mambrú's wildcat running buddy and Bond star Olga Kurylenko as his former lover, an official sent to audit the team and monitor their progress.
Che, Steven Soderbergh's two-part, four-hour-plus biopic of Che Guevara was released in 2008. Part one starred Del Toro as the Argentine revolutionary toppling the Batista dictatorship alongside Raúl Castro and his brother, Fidel (played by Rodrigo Santoro and Demián Bichir). Part two shows Guevara's failed attempt to bring revolution to Bolivia. Shot in Spanish, the film was attacked by dissidents imprisoned by the revolutionary regime for glamourising Guevara. It was a notoriously difficult shoot, with Soderbergh later saying that the film "scarred him".
"For a year after we finished shooting I would still wake up in the morning thinking, 'Thank God I'm not shooting that film'," he told the Guardian in 2009.
Del Toro has directed a short set in the Cuban capital, part of a portmanteau film called 7 Days in Havana. In December last year he was honoured at the Havana film festival, where he screened Escobar: Paradise Lost, a romantic drama in which he plays a fictionalised version of Colombian drug lord Pablo Escobar.
By Henry Barnes, The Guardian
May 18, 2015