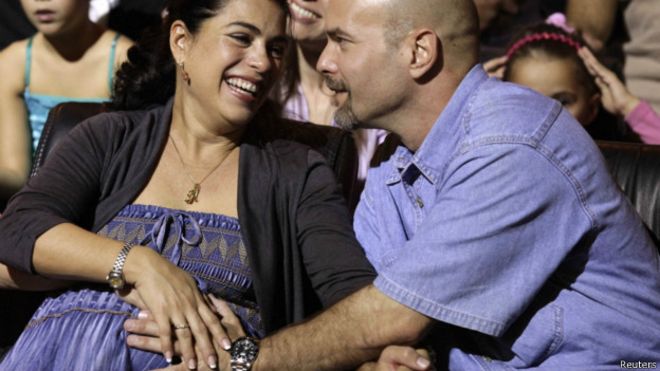 Gema Hernández Pérez is due in approximately 15 days, and although she will only know it some years later, it took 16 long, anguishing years before her father could be present, with her mother, when she draws her first breath, because all of the Five are finally home.
Gerardo Hernandez, with that spark we identify with him, speaking to Cuban Television on Saturday, drew back the curtain on the mystery that many people were trying to uncover, after being moved by the tenderness with which he embraced Adriana, "the greatest inspiration of my life," last Wednesday, December 17, just after his return to the homeland.
It was logical. The people were concerned about the Five, but more so for Gerardo. While René Gonzalez and Fernando Gonzalez had completed their sentences in full, and Antonio (Tony) Guerrero and Ramon Labaňino at least had dates for the end of their prison terms, he did not, and neither was his wife allowed to visit him in prison. Hence the heightened interest.
For that reason his comments, always accompanied by smiles, glances and complicit words with Adriana, whose love was "the very essence of our resistance."
"The emotion is very great and everyone is asking. We've had a lot of fun with all the commentaries and speculations. The reality is that it had to be in silence. Without going into a lot of detail…it had to be done by remote control, but here it is, and everything worked out well, which is the most important thing… Within more or less 15 days, a girl will be born who is going to be named Gema. Adriana says because it is a precious stone and me, because if it were a boy, he was going to be named Gerardo, and Gema is the closest to that."
He added, "My sentiments now, in one word? Craziness, I am not going to say love or anything else…craziness is the best way of defining it, because we are filled with such joy and it's enough to stop at the window and look down, for someone to identify you and the commotion develops at once, with people showing their affection."
"I was saying to someone the other day, it was 16 years, and things happened during these 16 years, we had to witness very disagreeable situations and experience really difficult moments, but when we met up with the first Cuban and gave the first few embraces, we forgot all of that. The love that you have bestowed upon us, the affection that the people have shown cures any wound, the deepest wound is cured with the love that we have received from Cubans.
"For a long, long time," he concluded, "We have dreamed of a moment like this, we dreamed that one day we would be here and sometimes, in the morning when we got up and thought about the things awaiting us that day, the only thing that raised our spirits was to dream of this moment, the moment of being in Cuba again with our people and it was really worth it." (Granma)
Written by Susana Lee, Periodico26.cu
December 24, 2014