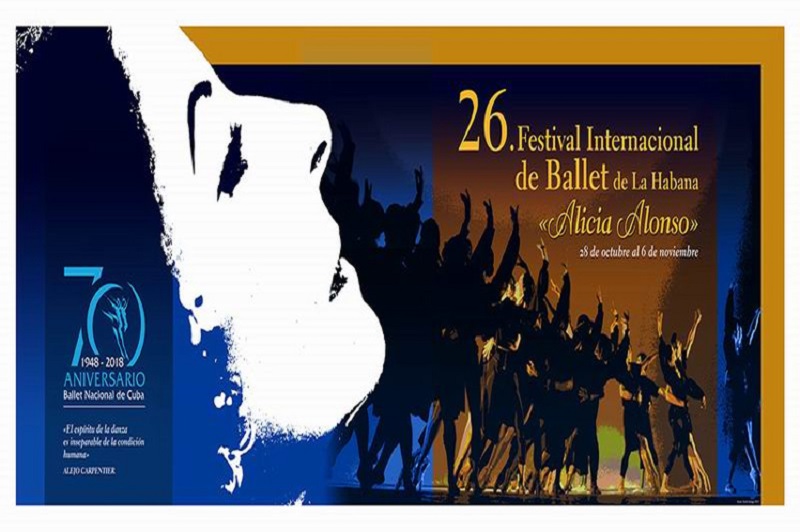 Nov 1 (Radio Rebelde) Closed ovations received the show Stars of American Ballet danced in the Mella Theater of this capital by several dancers of the New York City Ballet (NYCB), who perform here as part of the XXVI Alicia Alonso International Ballet Festival.
The audience could appreciate the first dancer of that company, Daniel Ulbritch, in the choreographies Tarantela, Canta, canta, canta, and Tres Hombres, pieces in which the artist showed his refined technique, mastery of the stage and interpretative versatility.
During the first one, together with the young Indiana Woodward, a pax de deux was presented where the virtuosity of both interpreters was conjugated with the joy and freshness so characteristic of that creation, which bears the signature of the Russian master George Balanchine.
Apollo was also danced by Sterling Hylting and Gonzalo García, leading dancers of NYCB, who showed a well-structured classical formation, as well as Teresa Reichlen and Ask La Cour, in the piece Diamantes.
The show was completed with Liturgia, Brubeck Elemental, and a very contemporary show Irresistible, created by one of its performers, Denys Drozdyuk, who with the song of the same name by the King of Pop, Michael Jackson, along with his partner Antonia Skobina, lifted the audience from their seats at the end, for the energy with which the work was interpreted.
Those presentations had their premiere this Monday, again to a full theater, a place where spectators of multiple nationalities were present, as was the case of the North American Antonella McBride.
To see them dance in the United States is very nice, but to see them here in Cuba, a country where there is so much talent, is more significant, she said.
Similiar was the opinion of Chilean Mariana Romero, who commented on how much she admires the Cuban School of Ballet, an institution that has set standards in the work of this art worldwide, and has shown that the dance of this country is a chair for new generations of dancers, she said.
The XXVI Alicia Alonso International Ballet Festival will run until November 6 with performances in the main theaters of Havana by prestigious figures and companies from America and Europe, mainly.