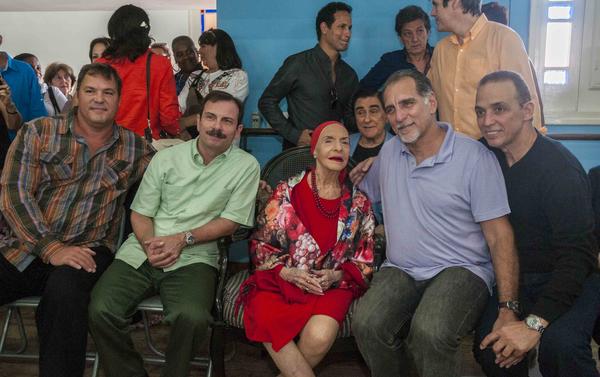 Havana, Jan 9.- Cuban Prima Ballerina Assoluta Alicia Alonso today showed the strength of male dancers to four of the Cuban Five, who were unjustly imprisoned for 16 years in the United States.
Ramón Labañino, Antonio Guerrero, Fernando González and René González visited the National Ballet of Cuba (BNC), led by Alonso, and applauded the corps de ballet of the company after a special presentation for them in a scene of the classic Coppelia, known as the Waltz of the Hours.
She wanted them to see how strong male dancers must be to lift women, explained the legendary 94 year-old artist and also expressed joy for having them all back in Cuba.
During their visit to BNC this Friday, six artists danced the epic piece The Advanced, by the Russian Azari Plisetski, which makes referrence to the heroism of those who love intensely their homeland and are willing to give up their life for it.
In the Blue room of the company, Guerrero urged young dancers not to leave this country to work in others where they were not trained.
According to Guerrero, no one living abroad loses his love for Cuba, but it is different, and his nation -which is undergoing a process of evolutionary changes- needs its youth.
He also assured that there is no other country in the world like Cuba. (Prensa Latina)