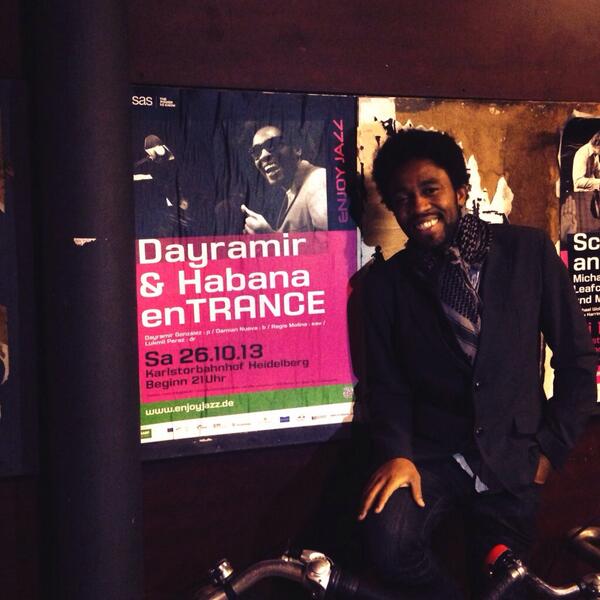 Jan. 9, 2016 | by Sandy Marks — Havana native Dayramir Gonzalez is a musician/composer with an award-winning career to date in both Cuba and the U.S. While the exact genesis of Afro-Cuban jazz is a subject for lively debate among U.S. and Cuban music aficionados, one thing for sure is that the collaborations of top-notch musicians from both countries have produced some of the best sounds in the entire jazz genre. Among them, Gonzalez is clearly an innovator and a crowd pleaser, with a magic touch on the piano.
In the first week of the new year, New York's Jazz Gallery hosted Gonzalez and his band, Habana enTrance for two shows along with fellow Cuban guest vocalist Melvis Santa. The offerings became a true tribute to that long-time US-Cuban friendship. The Jazz Gallery performances were a clear demonstration of Gonzalez' Cuban music education: to his foundation of profound classical training he adds all his own unique line and structural elements. His compositions and solo numbers brought the audience to its feet. The performances were roundly received by the New York jazz audience who now look forward to the upcoming Havana Concourse music series hosted by Gonzalez starting in mid-January at The Hub Music and Art Gallery in Soho. Gonzalez is advancing a music legacy across borders — that of Chucho Valdes, John Coltrane, Herbie Hancock and Chick Correa.
The Jazz Gallery, an international cultural center with a world-renowned reputation as a key player in the NYC jazz community, sustains a tradition of artistic excellence in jazz and fosters artistic growth, presenting both major and established figures in jazz alongside a younger generation of artists.
Gonzalez brought a decade of experience and success in the international jazz community with him to New York. Gonzalez was born and nurtured in the humble Havana neighborhood of Cerro, during what Cuba called "the Special Period." This was known as the toughest economic time in Cuba's history with many of its effects continuing to this day. Despite the economic hardships, Cuba's government continued to support and promote serious musical education for its youth. Now in the climate of friendly curiosity inspired by the thawing relations between the two nations, many Americans are getting their first taste of real Afro-Cuban jazz, through Gonzalez' music.
In 2004, Gonzalez won first place in the performance category at the annual JoJazz festival, the competition know as Havana's top venue for emerging jazz performers. In 2005, he won first place in the composition category and won his first record deal with the national record label Colibri. He recorded his first album with his group Habana enTrance, which became for him the ideal platform through which to develop his skills as artist, bandleader and composer. This album would later win three Cubadiscos, known as the Grammy of Cuba, for Best Debut Album, Best Jazz Album and Best Engineered Recording. In 2008, Gonzalez was invited by his long-time friend and mentor, Chucho Valdes, to open the Havana Jazz Festival.
Gonzalez personified U.S.-Cuba friendship when in 2009, he received a unique invitation to audition for the venerable Berklee College of Music in Boston. His acceptance to the school on full scholarship made him the first Cuban national to receive such recognition. In 2011, in just his second year at the institution, Gonzalez was signed by Berklee Jazz Revelation Records and became the face of the label. In that same year, he was selected as one of the top five pianists in Berklee's annual Piano Gala, performing at the Berklee Performance Center. He graduated Berklee Summa Cum Laude, after receiving the Wayne Shorter Award for Most Outstanding Composer of the Year.
In 2012, Gonzalez was invited to perform at Carnegie Hall as part of their Voices of Latin America series, along with Chucho Valdes, Gonzalo Rubalcaba, Danilo Perez, Egberto Gismonti and Aldo Lopez-Gavilan. His performance was later featured in the Wall Street Journal.
Gonzalez has created another form of excitement on U.S. soil: his Art School of Contemporary Performance and Creativity in New York City. This school is based on the Cuban theory of musical development, which focuses on a more comprehensive approach to music education at the elementary school level. His goal is to create musical education in the U.S. that is accessible to all students and families, especially those in low-income neighborhoods.
Gonzalez will release his second album, The Grand Concourse in 2016 while he continues to teach and perform.