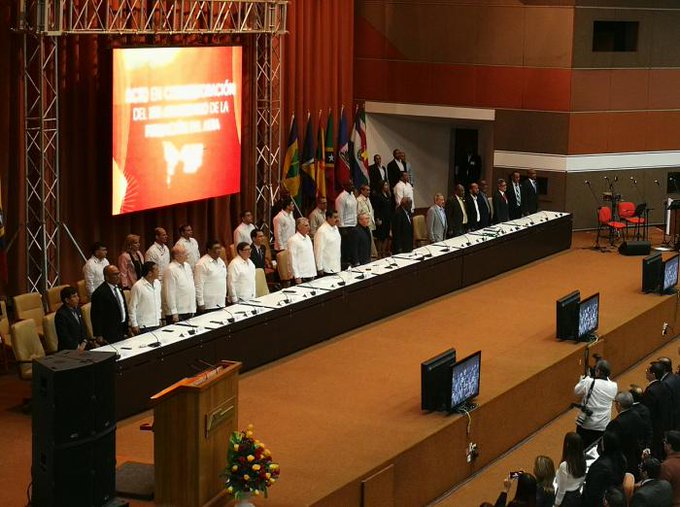 Venezuelan President Nicolás Maduro is present in Cuba at the event to reject interference and aggression against the South American nation.
Dec 14 (teleSur) An act of solidarity with Venezuela is being celebrated in Havana, Cuba, during the commemoration of the XIII anniversary of the Bolivarian Alliance – Treaty of Commerce of the Peoples (ALBA-TCP).
Venezuelan President Nicolás Maduro and his Cuban counterpart Raúl Castro are present at the ceremony, being held at the Havana Convention Center.
The celebration of the anniversary of ALBA is framed in reiterating its support for Venezuela before foreign interference and to pay tribute to the revolutionary leaders Fidel Castro and Hugo Chávez. It also serves as the culmination of the XVI Political Council of ALBA.
At the beginning of the event, the notes from the anthems of Cuba and Venezuela were heard and immediately a documentary was presented by journalist Irma Shelton, from the Cuban television news system, who told the story of the friendship between Hugo Chávez and Fidel Castro and the emergence of the project for the integration of the Bolivarian Alternative for the Americas, on December 14, 2004.
Cuban Foreign Minister Bruno Rodríguez read the declaration of the XVI Political Council of ALBA, in which he reaffirmed the principles of respect for the self-determination of the peoples, the non-interference in their internal affairs and reaffirmed the need to strengthen the Community of Latin American States and Caribbean (Celac).
Likewise, the text defends the sovereignty and development of the peoples with respect to the declaration of Latin America as a zone of peace. "We reiterate our support and solidarity with the Bolivarian Revolution, led by President Nicolás Maduro in the face of the interventionist and unilateral actions that threaten the Government and people of Venezuela," said Rodriguez.