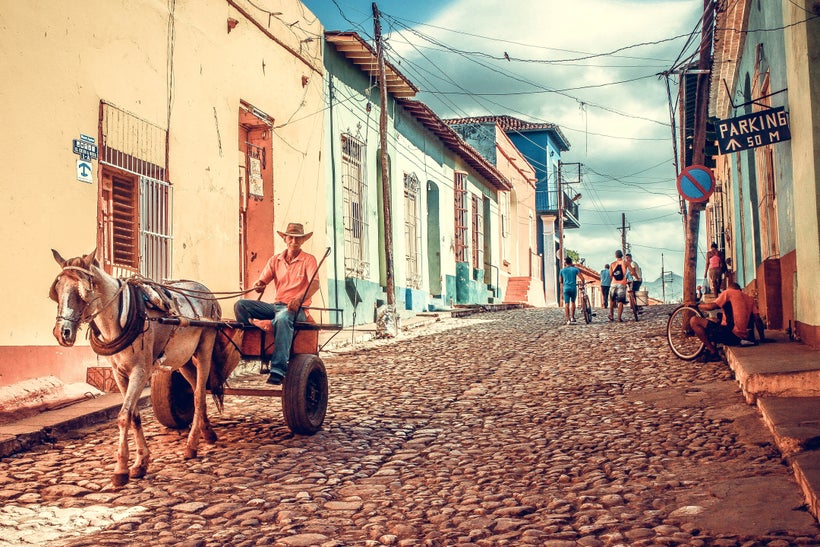 The travelers have spoken: there's just something about Cuba. Whether it's the sultry notes of salsa floating emanating from the doorways of Old Havana or the colorful colonial towns hidden amid tobacco fields and tropical beaches, Cuba has something special that sticks with you. You might even call it love at first sight! To help explain why Cuba is so alluring, we've filtered through thousands of recommendations from the minube travel community to create this list of why Cuba is one of the Caribbean's most amazing travel destinations.
1.) The beaches are absolute paradise…
Simply put, the beaches in Cuba are the stuff that Caribbean dreams are made of. Endless stretches of powdery white sand and crystal-blue water line the coast from Havana to Santiago de Cuba, and Cuba's relative lack of coastal development means these palm-studded bays still have a natural feel.
2.) And they're deliciously uncrowded
While Cuba is an increasingly popular holiday destination, it's still nowhere near as touristy as the neighboring Bahamas and you'll find plenty of sand to sprawl out on even in touristy Varadero, the island's main resort town. If you want the real Robinson Crusoe experience, don't miss Cuba's legendary cayos and their miles of untouched white-sand goodness.
3.) The magical atmosphere of Old Havana
There's one word that travelers always use to describe Havana: magical. With its colorful historic buildings and classic cars, visiting Havana is like stepping back in time, but add to that a lively street scene and intense musical culture and you have one of the Caribbean's most exciting and romantic cities.
4.) Two words: classic cars
Cuba is gearhead heaven. Nowhere on Earth has such a dazzling collection of classic American cars and the streets of Havana and Santiago de Cuba are vertible museums to these automotive antiques.
5.) It's full of enchanting colonial towns…
While Havana usually gets all the attention, many travelers consider the UNESCO-designated towns of Trinidad and Camagüey to be Cuba's most charming destinations. With their cobblestone streets and colorful architecture dating back the 16th century, they're considered among the best-preserved colonial towns in the Americas.
6.) And breathtaking landscapes
Think Cuba is just beaches? Think again. With it's surprising landscapes of karst hills and lush forests, the Viñales Valley's is definitely one of Cuba's most beautiful destinations. And, as Cuba's tobacco heartland, it's an amazing place to experience the friendliness and warmth of traditional rural life of Cuba first hand.
7.) Cuba is heaven for architecture lovers
Colonial, Moorish, Baroque, Modernist – Cuba boasts some of the most eclectic and impressive historical architecture in the New World. Most amazing, perhaps, is the city of Cienfuegos, home to one of the most incredible collections of Neoclassical architecture in the Caribbean.
8.) Nine (yes, nine) World Heritage Sites to explore
Cuba boasts a whopping nine World Heritage Sites, almost as much as the rest of the Caribbean combined. From idyllic waterfall-studded national parks and colonial coffee plantations to the colonial forts of Havana and Santiago, Cuba's got history-buffs covered.
9.) The food is amazing. And the cocktails are even better!
Whether you're chowing down on slow-roasted pork with mojo or freshly-caught seafood, Cuba's food scene is a revelation. Cuba's rum is also considered among the best in the world, not surprising from the country that gave us the Daiquiri, Mojito, and Cuba Libre.
10.) There's music everywhere!
Whether you're strolling the Malecón in Havana or kicking back on an island beach, there's bound to be music. Daily life in Cuba moves to the rhythms of son, salsa, timba and reggaeton, and you'd be hard pressed to find a hotel or restaurant that doesn't offer live music.
http://www.huffingtonpost.com, September 5, 2017